SEROPREVALENCE OF TREPONEMA PALLIDUM INFECTION AMONG WOMEN WITH HISTORY OF MISCARRIAGE AND STILLBIRTH IN A FERTILITY HOSPITAL IN NNEWI, NIGERIA
Keywords:
seroprevalence, Treponema pallidum, women, stillbirth, miscarriage, Nnewi
Abstract
Background: Untreated sexually transmitted infections caused by spirochetes in pregnant females are associated with miscarriage and still-birth.
Aim: This study was aimed at screening, confirming and investigating the seroprevalence of Treponema pallidum infection among women with history of miscarriage and still-birth in a private fertility hospital in Nnewi, Nigeria. Also, to assess the association between pregnancy outcome in relation to T. pallidum infection and determine the association between risk factor variables for T.pallidum infection among women with history of miscarriage and still birth in the study group.
Methodology: This cross-sectional study involved 150 pregnant in- and outpatients of aged 20 to 49 years, randomly and who gave consent to participate. Treponema pallidum antibody was screened with serum using VDRL (Venereal Disease Research Laboratory) agglutination test and confirmed with Treponema palladium hemagglutination ELISA kit spectrophotometric method. Risk-factor variables investigated. Data analyzed using chi-square analysis with level of significance set at <0.05.
Results: Seropositive T. palladium was 2.0 %, higher among the age range of between 30 – 34 (0.7%) years old. All results from VDRL screening were confirmed positive by TPHA test. Risk factors like marriage, gestational age, marital background (polygamy), blood transfusion, were important in disease transmission as 3(2.1%), 1 (1.3%), 1 (14.3%), 1 (8.3%), 2 (2.5%) and 1 (10%) of the 2 participants. There was a significant association (X= 15.224; p= 0.002) between presence of the disease and gestational age (p<0.05).
Conclusion: T. palladium infection was present in pregnant women in the study group, though the 30-34 years old groups were more affected. Gestational age, especially 3rd month, seemed to be important in encouraging occurrence of the disease in the group studied.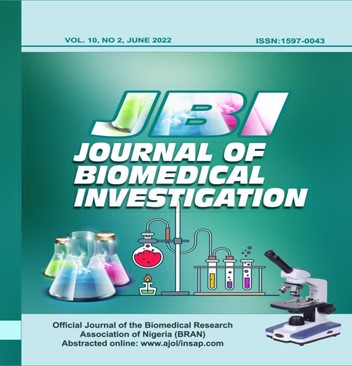 Downloads
How to Cite
Ochiabuto, O., Iwegbu-Aninye, N., Unaeze, B., & Uduchi, O. (2022). SEROPREVALENCE OF TREPONEMA PALLIDUM INFECTION AMONG WOMEN WITH HISTORY OF MISCARRIAGE AND STILLBIRTH IN A FERTILITY HOSPITAL IN NNEWI, NIGERIA. Journal of Biomedical Investigation, 10(2), 103–114. Retrieved from https://journals.unizik.edu.ng/index.php/jbi/article/view/1527