BACTERIAL CONTAMINATION AND ANTIBIOGRAM OF ISOLATES FROM THE HANDS OF UNDERGRADUATE STUDENTS AND FOMITES AT NNAMDI AZIKIWE UNIVERSITY NNEWI CAMPUS ANAMBRA STATE
Keywords:
Enteric bacteria, students, fomites, hands, Nnewi
Abstract
Background: Health professionals are at high risk of acquiring bacterial contamination and are potential sources of health-acquired  infections as well as community acquired infections. This study determined the bacterial contamination and antibiogram of isolates from the hands of undergraduate students and fomites at Nnamdi Azikiwe University, Nnewi Campus, Nnewi Anambra State.
Methods: A cross-sectional study was conducted between April and July 2022 in different Departments of Faculty of Health Sciences and Technology. A total of 112 swab samples from hands of students of health profession and 20 seats were swabbed using a simple-rinse method. The isolated Bacterial colonies were counted and species were identified using standard bacteriological techniques. Antibiotic susceptibility testing was performed using a disk diffusion technique. Chi-square test was done to ascertain the association  between variables.
Results: The proportion of E.coli was found to be 17.9%, followed by klebsiella pneumonia with prevalence of 11.9%, while Salmonella  and Proteus spp were 10.3% and 8.3% respectively. The relationship between the number of bacterial isolated from hands and seat was significant (P=0.01), (X2=8.7). The overall multidrug-resistant rates among E.coli, Klebsiella pneumonia, Proteus species, Salmonella  species were 50%, 43%, 43%, 43% and 35% respectively.
Conclusion: There is low prevalence of pathogenic enteric bacteria among students in the study area.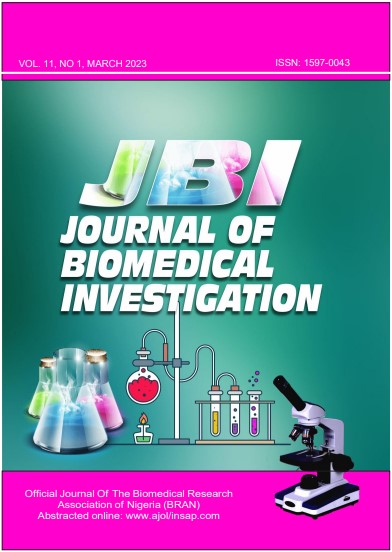 Downloads
How to Cite
OBI, C. M., OSHIM, I. O., OFORDILE, C. A., OKWUANASO, B. C., OKEKE, M. U., & UDUCHI, I. O. (2023). BACTERIAL CONTAMINATION AND ANTIBIOGRAM OF ISOLATES FROM THE HANDS OF UNDERGRADUATE STUDENTS AND FOMITES AT NNAMDI AZIKIWE UNIVERSITY NNEWI CAMPUS ANAMBRA STATE. Journal of Biomedical Investigation, 11(1), 30–33. Retrieved from https://journals.unizik.edu.ng/jbi/article/view/1987