BIOLOGY TEACHERS' PERCEPTIONS ON THE INFLUENCE OF THEIR SELFEFFICACY ON THEIR CLASSROOM PRACTICES IN AWKA SOUTH LOCAL GOVERNMENT AREA
Keywords:
Self-efficacy, instructional strategies, classroom management, students' engagement
Abstract
The researcher, over time, has observed that poor classroom management, poor students' engagement as well as poor instructional delivery are huge sources of worry among stakeholders in the secondary education system. Although, there are many variables that may interplay with classroom practices in secondary schools, the researcher is interested in investigating the Biology teachers' perceptions of the influence of their self-efficacy on their classroom practices in Awka South LGA. Three research questions were raised to guide the study. Survey research design was utilized for the study. The population of the study was made up of 58 Biology teachers in the public secondary schools in Awka South LGA. No sampling was done as the population was of manageable size. Questionnaire titled 'Perceived Impact of Self-Efficacy on Biology Teachers' Classroom Practices (PISEBTCP)' was used for data collection. PISEBTCP was validated by three experts in Nnamdi Azikiwe University, Awka. The reliability of PISEBTCP which was established using Cronbach alpha statistics yielded alpha coefficient value of 0.83.Data analysis was done using mean. The findings of the study indicated that Biology teachers' self-efficacy positively influenced their use of instructional strategies, classroom management and student engagement. It was recommended in view of the findings that government should organize seminars and workshops for Biology teachers on the need to exude self-efficacy for efficient use of instructional strategies, classroom management and students' engagement.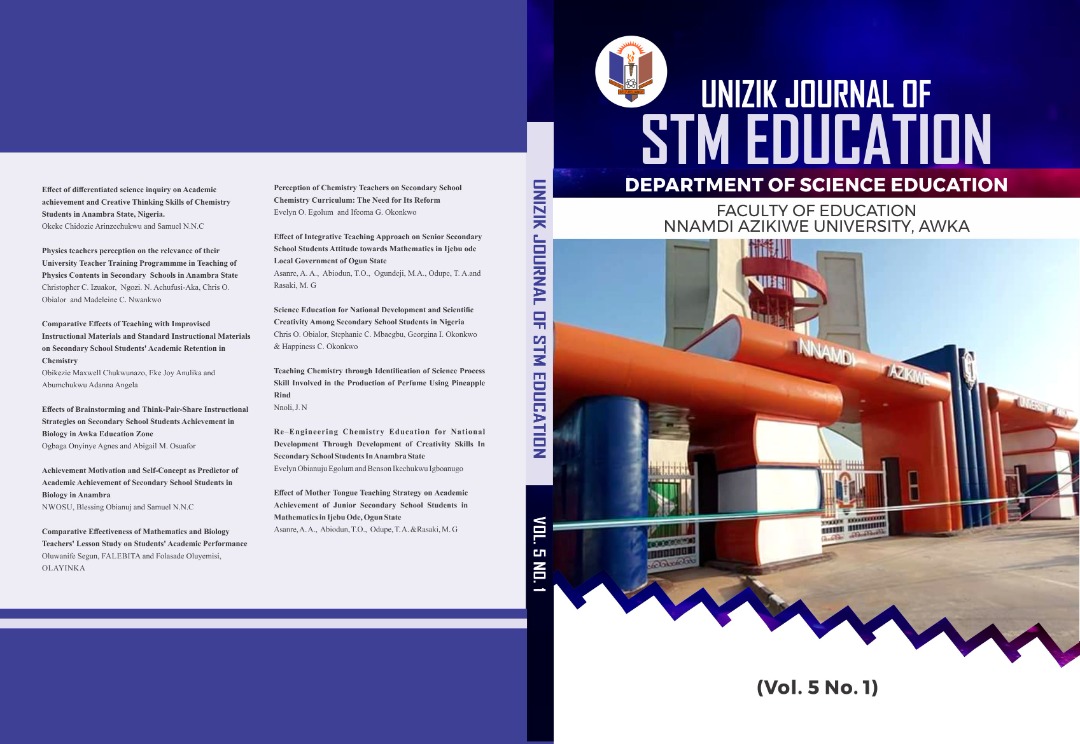 Downloads
How to Cite
Chukwuemeka, C. V., & OSUAFOR, A. M. (2022). BIOLOGY TEACHERS' PERCEPTIONS ON THE INFLUENCE OF THEIR SELFEFFICACY ON THEIR CLASSROOM PRACTICES IN AWKA SOUTH LOCAL GOVERNMENT AREA. UNIZIK Journal of STM Education, 5(1), 101–111. Retrieved from https://journals.unizik.edu.ng/index.php/jstme/article/view/1502