TEACHING CHEMISTRY THROUGH IDENTIFICATION OF SCIENCE PROCESS SKILL INVOLVED IN THE PRODUCTION OF PERFUME USING PINEAPPLE RIND
Keywords:
Chemistry, Science process skills, Production, perfume, Pineapple rind
Abstract
The study was carried out to determine the science process skills involved in the production of perfume using pineapple rind. The  study was an experimental design which employed a sample of one hundred (100) SS2 chemistry students randomly drawn from four coeducation schools in Onitsha Education Zone. Two research questions and one hypothesis guided the study. Process skills observation guide was used to collect the data. The instrument was validated. Mean and standard deviation were used for data analysis and z test was used to test the hypothesis at the significance level of 0.05. From the findings, it was observed that almost all the science process skills listed were involved in the production of perfume using pineapple rind. Gender was not a significant factor in the level of acquisition of the science process skills by students during the production. The findings also showed that perfume as an improvised resource material enhances and increases the students' science process skills and this makes the understanding of chemistry concepts more concrete rather than abstract. Recommendations were however made.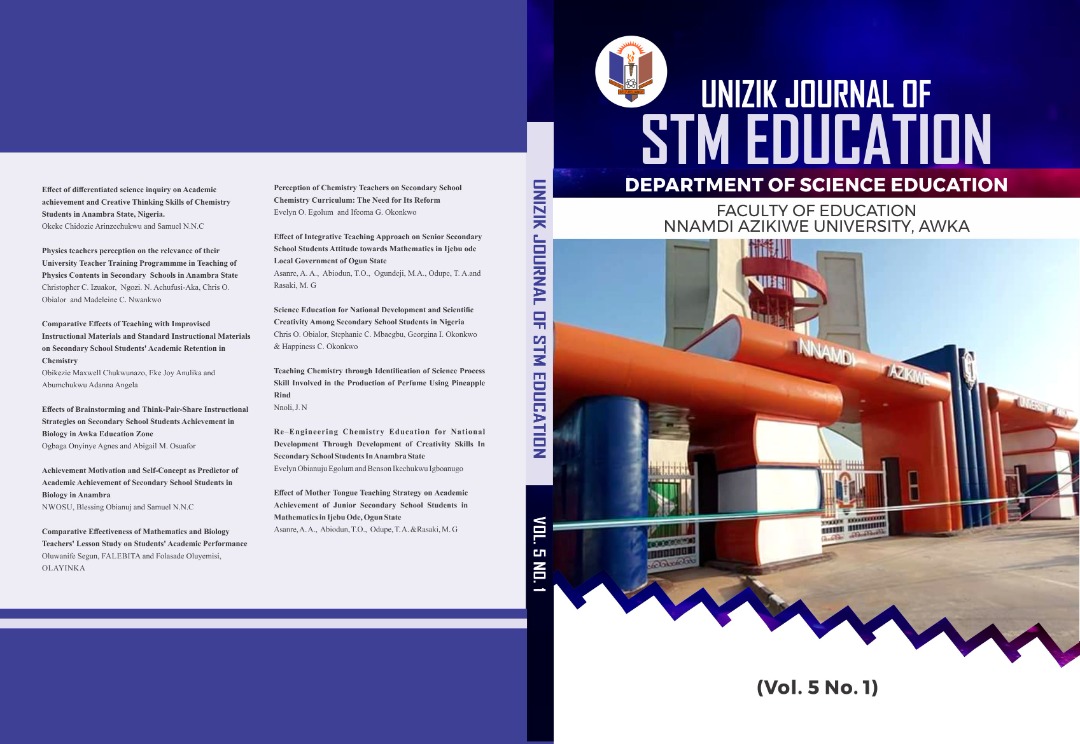 Downloads
How to Cite
Nnoli, J. N. (2022). TEACHING CHEMISTRY THROUGH IDENTIFICATION OF SCIENCE PROCESS SKILL INVOLVED IN THE PRODUCTION OF PERFUME USING PINEAPPLE RIND. UNIZIK Journal of STM Education, 5(1), 112–120. Retrieved from https://journals.unizik.edu.ng/index.php/jstme/article/view/1503