RE–ENGINEERING CHEMISTRY EDUCATION FOR NATIONAL DEVELOPMENT THROUGH DEVELOPMENT OF CREATIVITY SKILLS IN SECONDARY SCHOOL STUDENTS IN ANAMBRA STATE
Keywords:
Re-engineering, National development, Creativity skills, Chemistry education
Abstract
The purpose of this study was to find out how chemistry education can be re-engineered for national development through  development of creativity skills in secondary school students. Four research questions guided the study. A survey research design was used for the study. The population was all the chemistry teachers in public secondary schools in the six education zones of Anambra State. The sample used for the study was ninety four (94) chemistry teachers selected from the fifty four (54) secondary schools used for the study. A structured questionnaire was used as an instrument to collect data for the study. The instrument was validated by experts and it has a reliability coefficient of 0.83 using Cronbach Alpha technique. The data collected was analyzed using arithmetic mean. The findings of the study among others indicated that the chemistry teachers used for the study were aware of most of the creativity skills that can be used to re-engineer chemistry education for national development but they only teach to develop those skills in their students to a moderate or low extent. Only few of the teachers teach to develop those skills to a high extent. It was recommended among others that practical activities should be introduced and enforced in the teaching and learning of chemistry to develop skills in students.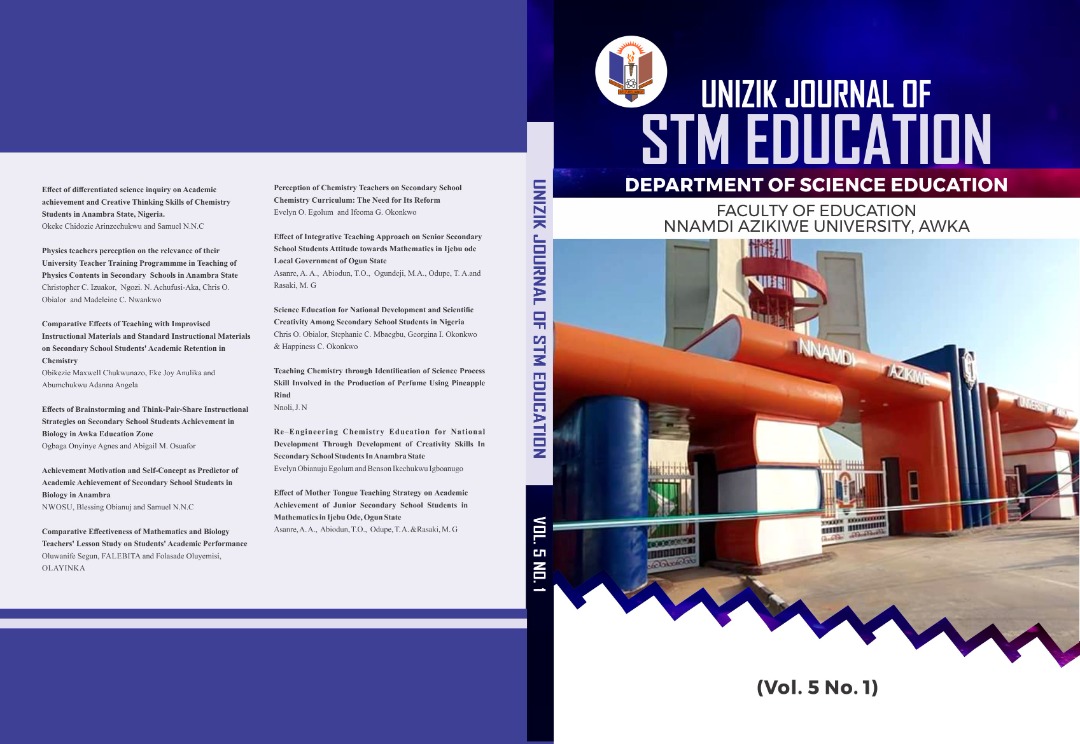 Downloads
How to Cite
EGOLUM, E. O., & Igboanugo, B. I. (2022). RE–ENGINEERING CHEMISTRY EDUCATION FOR NATIONAL DEVELOPMENT THROUGH DEVELOPMENT OF CREATIVITY SKILLS IN SECONDARY SCHOOL STUDENTS IN ANAMBRA STATE. UNIZIK Journal of STM Education, 5(1), 121–130. Retrieved from https://journals.unizik.edu.ng/index.php/jstme/article/view/1504