Preliminary Pages
Abstract
UNIZIK Journal of Educational Management and Policy (UJOEMP) is a Journal of the Department of Educational Management and Policy, Faculty of Education, Nnamdi Azikiwe University, Awka. It is an online, peer reviewed inter-disciplinary Journal with high reputation and excellence. It publishes original and well researched empirical and theoretical studies in education and allied disciplines with a view to promoting education in Nigeria.
The Editorial Board wishes to state that the opinions expressed in the articles are those of the respective authors and not that of the Department nor those of the Editors. Thus only the author(s) shall be liable for any copyright violation including plagiarism.
This edition features articles that met the standard of UJOEMP. The Board encourages author(s) whose papers were not accepted to strive to improve and re-submit for publication in future editions. It congratulates authors whose papers made this edition a reality and recommends the articles for readership of the general public.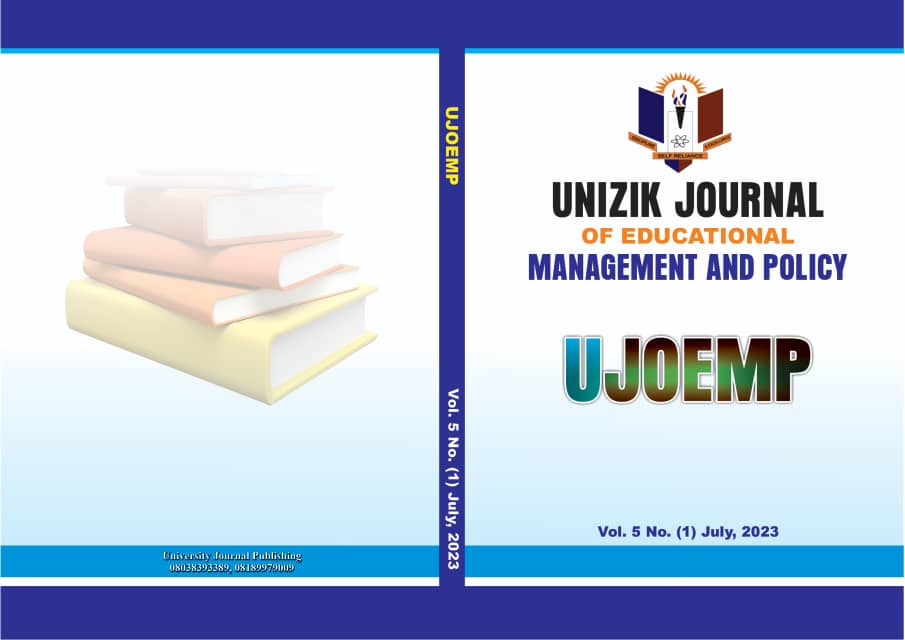 Downloads
How to Cite
Asiegbu, E. C. (2023). Preliminary Pages. UNIZIK Journal of Educational Management and Policy, 5(1), i-x. Retrieved from https://journals.unizik.edu.ng/ujoemp/article/view/2184