MANAGEMENT PATTERN OF LOW BACK PAIN AT THE SPINE UNIT OF PHYSIOTHERAPY DEPARTMENT, UNIVERSITY OF PORT HARCOURT TEACHING HOSPITAL, NIGERIA
Keywords:
low back pain, treatment-based classification, stabilization, manipulation
Abstract
Background of the study: Low back pain (LBP) has been described as the single most significant contributor to musculoskeletal disability worldwide, and a major cause of decreased efficiency and well-being in the working populace. It is a common complaint in general outpatients and orthopaedic clinics. To mitigate attendant problems while aiding recovery, the Treatment-Based Classification system has been identified as an efficient and effective method of management.
Aim of the study: This study was aimed at analyzing the pattern of occurrence of low back pain and the nature of the Treatment-based classification system used for patients that presented at the spine unit of the physiotherapy department of the University of Port Harcourt Teaching hospital.
Material and methods: Data for this retrospective study were obtained from the case notes of the patients and documented into a spreadsheet specifically designed for the study. These include demographic factors, history of LBP, physician diagnosis (if available), physiotherapy diagnosis, treatments offered and further signs/symptoms (flags). Data obtained were summarized using descriptive statistics of mean, frequency counts and percentages.
Results: Data of a total of 86 patients treated for complaints of low back pain were utilized in this study. The male to female ratio was 1:1.77 with age range between 16 to 65 years. Most patients were females, adults and were civil servants. Majority presented with a variety of accompanying complaints such as pain in one or both legs. The global stabilization component of motor control and function optimization was the intervention of choice as most patients fell into this treatment category following the outcome of classification with only one per cent requiring manipulation.
Conclusion: Record-keeping in the clinic need to be enhanced especially in the presence of comorbidities in determining which patients are fit for standard rehabilitation and which should be attended to along with or restricted to only medical management are being recorded. Also, results of this study indicate the need to be pay primary prevention of LBP in working population to forestall its occurrence.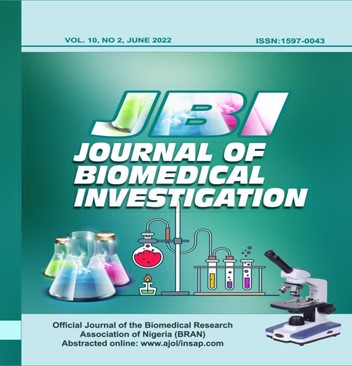 Downloads
How to Cite
Ogbonna, N. O., Alonge, I. A., Nwachukwu, E., Omojunikanbi, O. A., Ubom, I. M., & Obi, I. S. (2022). MANAGEMENT PATTERN OF LOW BACK PAIN AT THE SPINE UNIT OF PHYSIOTHERAPY DEPARTMENT, UNIVERSITY OF PORT HARCOURT TEACHING HOSPITAL, NIGERIA. Journal of Biomedical Investigation, 10(2), 83–93. Retrieved from https://journals.unizik.edu.ng/index.php/jbi/article/view/1525