SOCIO-ECONOMIC STATUS OF STROKE SURVIVORS AND PEOPLE LIVING WITH OSTEOARTHRITIS IN PORT HARCOURT METROPOLIS, RIVERS STATE
Keywords:
Socio-economic status, stroke, osteoarthritis, Port Harcourt
Abstract
Background: Socio-economic status (SES) is an important determinant of health, and one of the major factors that determine treatment and rehabilitation outcomes of debilitating chronic conditions such as stroke and osteoarthritis (OA).
Aim of the Study: This study determined and compared SES of stroke survivors and people living with osteoarthritis (PLWOA) in Port Harcourt Metropolis, Rivers State.
Material and Methods: The study design was comparative cross-sectional. A multistage sampling technique was used to select 78  stroke survivors and 186 PLWOA from the two strata making up Port Harcourt Metropolis – Port Harcourt City Local Government Area (PHALGA) and Obio-Akpor Local Government Area (OBALGA). Kuppuswamy's socio-economic scale was used to measure the current SES of the two groups from June 2019 to January 2020. Data were analyzed using the IBM SPSS version 24. Chi-square test statistic was used to compare the proportion of stroke survivors with low, middle and high SES and that of PLWOA. P-value ≤ 0.05 was considered statistically significant.
Results: Results revealed that majority of stroke survivors and PLWOA were males, 55 (70.5%) and 106 (57%) respectively and within  51-60 years of age. The proportions of stroke survivors with low, middle and high SES were 26.1%, 56.5% and 17.4% compared to 41.7%,  49.7% and 8.1% respectively of those of PLWOA. The difference observed between these proportions was statistically significant (Chi-square = 10.272, P-value = 0.006).
Conclusion: The study concluded that most stroke survivors and PLWOA in Port Harcourt metropolis were of middle SES, and that low SES was higher in PLWOA than in stroke survivors.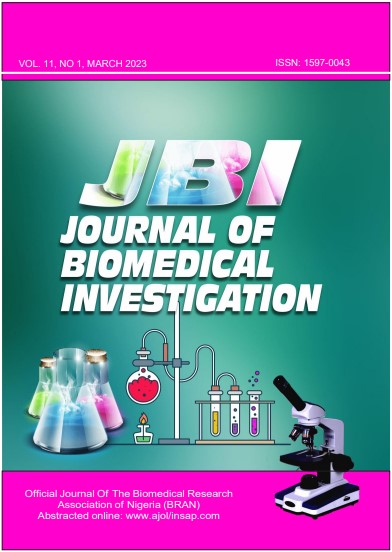 Downloads
How to Cite
OTI, I. K., & BABATUNDE, S. (2023). SOCIO-ECONOMIC STATUS OF STROKE SURVIVORS AND PEOPLE LIVING WITH OSTEOARTHRITIS IN PORT HARCOURT METROPOLIS, RIVERS STATE. Journal of Biomedical Investigation, 11(1), 47–53. Retrieved from https://journals.unizik.edu.ng/jbi/article/view/1990