ELEVATED INTER-ARM BLOOD PRESSURE DIFFERENCE: LEVELS AND CORRELATES AMONG STROKE SURVIVORS
Keywords:
IABPDs, Stroke Survivors, Blood Pressure
Abstract
Background: Differences could exist in blood pressure measurement obtained from both arms, and it is deemed abnormal when it is  equal to/ greater than 10mmHg. The elevated interarm blood pressure differences (IABPDs) have been associated with an increased  risk for cardiovascular dysfunction.
Objectives: This study aimed at determining the levels and correlates of elevated IABPDs in systolic and/or diastolic values of stroke  survivors.
Methods: Sixty-one stroke survivors (27 males and 34 females) were recruited from the stroke unit of the Physiotherapy Clinic at the  University of Port Harcourt Teaching Hospital, Nigeria. BP values were measured in both arms with the patient in a sitting position. An  interval of 5 minutes was observed before measuring from the other arm. Data obtained were analyzed and summarized, using  descriptive statistics of frequency and percentage. Inferential statistics of Chi-Square was used to determine significant differences  between variables. Level of significance was set at p < 0.05.
Results: Findings revealed elevated IABPDs in 82% of the participants; with the greatest difference noted to be 30mmHg. There was an  association between IABPDs and Gender (p=036), BMI (p=041), and affected arm (0.017) respectively.
Conclusions: Elevated IABPDs was common among the stroke survivors; with discrete higher systolic and diastolic BP values that elicited such IABPDs derived from both arms. Females had twice as much elevated IABPDs than the male participants. Such elevated  IABPDs shows an increased risk for cardiovascular diseases hence it is vital to observe it among patients with diseases like stroke which can reoccur. Overall, this measure will help all health care professionals to optimally monitor and care for stroke survivors.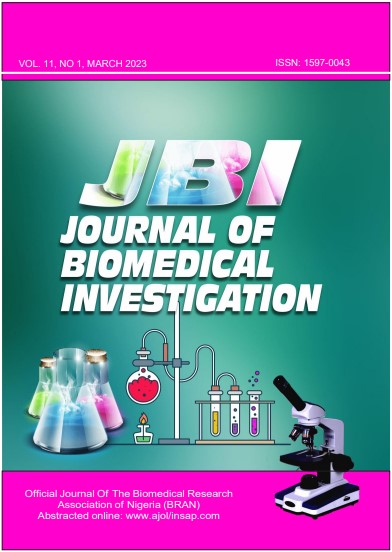 Downloads
How to Cite
OKEZUE, O. C., UGWU, L. E., AYERITE, A., ODEBIYI, D. O., NDUBUISI, D. L., & UWAKWE, C. V. (2023). ELEVATED INTER-ARM BLOOD PRESSURE DIFFERENCE: LEVELS AND CORRELATES AMONG STROKE SURVIVORS. Journal of Biomedical Investigation, 11(1), 34–40. Retrieved from https://journals.unizik.edu.ng/jbi/article/view/1988