EFFECTS OF AEROBIC EXERCISE TRAINING ON WALKING ENDURANCE AND SELECTED CARDIO-RESPIRATORY PARAMETERS IN STROKE SURVIVORS
Keywords:
Aerobic exercise, walking endurance, cardio-respiratory response, stroke survivors
Abstract
Background/Objective: Many stroke survivors continue to live with residual physical impairments which may promote a sedentary lifestyle and poor cardio-respiratory fitness. This study was aimed at determining the effects of aerobic exercise training on walking endurance and selected cardiorespiratory parameters in ambulatory stroke survivors.
Method: Thirty-seven stroke survivors (20 males and 17 females) completed this pre-post experimental study. They were recruited from the Physiotherapy clinics of Lagos University Teaching Hospital, and Lagos State University Teaching Hospital through a sample of convenience. Participants' walking endurance, selected cardiorespiratory parameters were measured before and after the intervention. They had 10 weeks of aerobic exercise training using bicycle ergometer. Exercise sessions were conducted two times per week at an intensity of 50-59% of heart rate reserve (HRR) for the first five weeks and later progressed to 60-69% of HRR for the remaining five weeks at a duration of 25 minutes for each exercise session. Data was analyzed using Paired t-test and Independent t-test the <0.05 level of statistical significance.
Results: The mean age, height and weight of the participants were 51.59±4.86 years, 1.7±0.9m and 69.8±5.1kg respectively. There were significant improvements in the walking endurance (p=0.001), all selected cardiovascular (p=0.001) and respiratory parameters (p=0.001) of the participants after 10 weeks of aerobic training. However, there were no gender differences in the effects of aereobic exercise training on selected cardio-respiratory parameters among the participants except in the forced expiratory volume in one second (FEV₁) (p= 0.037).
Conclusion: Aerobic exercise training is beneficial in improving walking endurance and cardio-respiratory parameters in stroke survivors.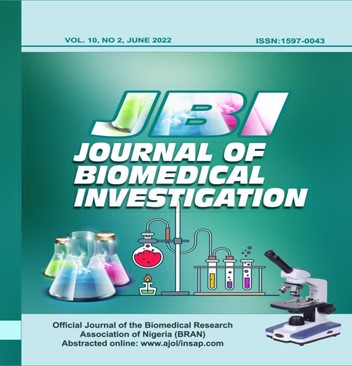 Downloads
How to Cite
Aweto, H. A., Abdullahi, B. T., & Akinbo, S. R. A. (2022). EFFECTS OF AEROBIC EXERCISE TRAINING ON WALKING ENDURANCE AND SELECTED CARDIO-RESPIRATORY PARAMETERS IN STROKE SURVIVORS. Journal of Biomedical Investigation, 10(2), 48–61. Retrieved from https://journals.unizik.edu.ng/index.php/jbi/article/view/1521